While I don't have the MEPSA box of prizes and awards yet, I saw the MEPSA book with the results available from Lulu as a PDF for 10 dollars, so I decided to go ahead and buy it. However, my dad had to buy it, and he was on vacation with my mom for their Anniversary, so he bought it and tried to send it via email to me. It didn't work. So I got the brilliant idea of having the Novice results copied to document word, then sent down to me. Some of the pages were cut off and a little hard to read, but I read it.
Maybe I shouldn't have.
It seems as if the judge was the tiniest bit "in favor" of one shower (granted, her photos were great). She got Overall Grand Champion, Reserve Champion Halter, AND Overall Grand Champion, Reserve Champion Performance PLUS Overall judges choice! While I was happy for her....I was a little disheartened. I was crying after I read the rest of the results.
Paintball
5th place Stallion, 8th place STOCK (He is gaited)
Blackhawk
6th place Stallion, 9th pace ARABIAN/MORGAN (He is an appaloosa)
Theodora
Reserve Champion Mare, Third place Sporthorse, 6th place head-study (I am very happy with this one)
Ashleigh
7th place Mare, Champion Morgans (Ok, I am happy).
Collin
7th place Draft, 5th place Liberty (Remember how he won 1 Grand and 1 Reserve Grand in his first two shows)?
Ashka
Reserve Champion Pony, 6th Place Western Trail
Loki
4th place Spanish
Snow White
8th place Gaited
Ballou/Encore
3rd place Pony
Quimby
Champion Foal, Champion Sporthorse
Dexter
7th place Headstudy
Bleau Angel
8th place ARABIAN/MORGAN (she is a Quarter Horse), 8th place Western Pleasure.
Koda
10th place ARABIAN/MORGANS (He is an appaloosa)
Shasta Marie
6th place Western Pleasure
Zenobia
9th place Mare
I don't know what happened. How could my Stock horses be in the Arab class when they are clearly Appaloosa's or Quarter horses (it say's the breed on the back of the picture) and how could my obviously Gaited Saddlebred be in Stock? How could they place (very badly) in these classes? Why weren't they just DQ'ed from the class they didn't fit in? I am sure that I double-checked the classes to make sure I had the right ones for my horses before I sent the pictures to the show.....
I don't know if it was a misunderstanding of the book publisher, the judge, or me. However, I can't be angry. After all, another Championship Show will come, and I hope to kick butt then. On the bright side, I have always wanted the green-colored ribbon. :)
IMEHA, ABRA, Next season MEPSA and Live Showing, here I come!!!
~CBL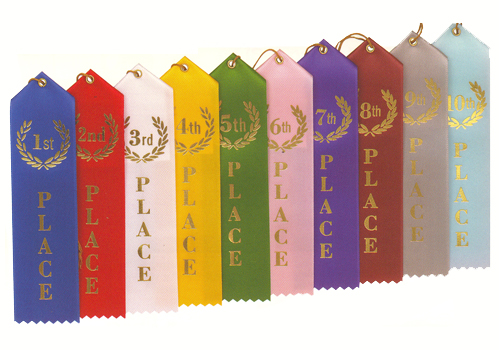 One (or more) of every color!
NOTE: These are the Australian ribbon colors. I couldn't find an American colored ribbon picture!